Help the dying, save the surviving
Indonesia is endowed with a wealth of diverse plants. Although only comprising 1.3% of the Earth's surface, the Indonesian archipelago has a rich biodiversity of flora and fauna from 25,000 to 30,000 different plant species, or about 10% of the total number of species in the world.
Vision and Mission
YKRI's vision is to build world-class botanical gardens in Indonesia that are suited for conservation efforts and the regeneration of endangered plants.
YKRI's mission is to contribute to the preservation of endangered botanical species through collaboration of all Botanical Gardens Indonesia.
Based on the Vision and Mission, the purpose of YKRI are as follows:
Expand institutional capacity of the botanical gardens
Provide support to botanical gardens to the preservation of endangered plants effectively
Create public awareness of the importance of biodiversity conservation, as well as the role and function of the botanical gardens
Establish cooperation and foster the participation of all stakeholders, donors and potential partners
Increase sustainable management capacity of YKRI
History
Established on April 21, 2001, YKRI aims at preserving the rich diverse plants in Indonesia that are currently under threat from the lack of sustainable efforts. More than 590 plant species in Indonesia are at risk and are classified as endangered or at worse, extinct. There are many plant species that may yield potential benefits, however have yet to be discovered. Furthermore, many species have been significantly reduced at an alarming rate and are on the verge of extinction, faster than the plants to be studied, discovered and regenerated.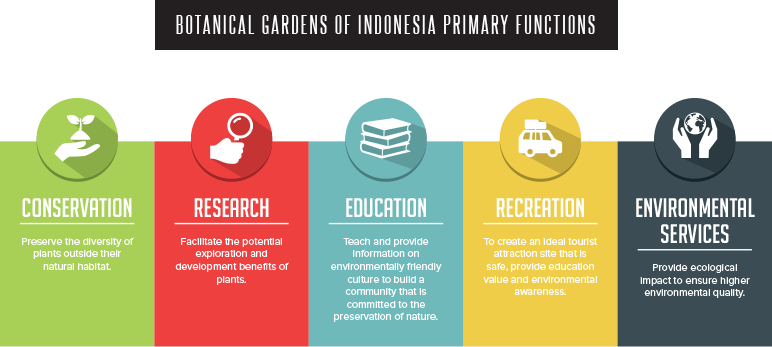 As an independent, non-governmental body, YKRI was established in response to meet the challenges and changing needs of the community towards Indonesia's botanical gardens. By inviting all stakeholders to work alongside in raising awareness and public knowledge, YKRI becomes the primary partner for Indonesia's Botanical Gardens to achieve these functions.
About Us
---